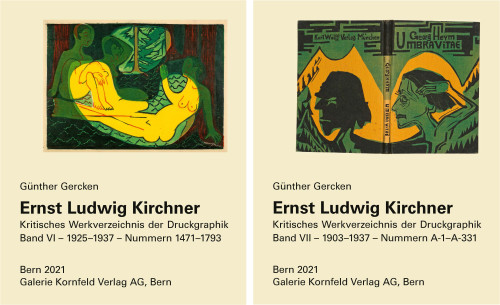 Günther Gercken
Ernst Ludwig Kirchner
Band VI and VII: Kritisches Werkverzeichnis der Druckgraphik
Volume VI includes the graphic works from 1920-1937, volume VII works from 1903-1937 as book illustrations, catalogues, applied art and exlibris. All works are listed chronologically and reproduced with all known prints mentioned.
The catalogue raisonné of graphic prints by Ernst Ludwig Kirchner, written by Günther Gercken, is a comprehensive and critical re-edition of the catalogue raisonné by Gustav Schiefler and Annemarie & Wolf-Dieter Dube. All prints are listed and reproduced in chronological order, without separation by their printing technique. All copies of each print which came to the knowledge to the author are described. This compilation gives an overview of how many proofs were printed of each image.
Volume VI and VII can only be pourchased together.
2021
ISBN: Bd. VI, 978-3-85773-054-2
ISBN: Bd. VII, 978-3-85773-055-9
250
CHF